Creative Work Should Speak For Itself
Your advertising agency should offer more than a dog and pony show
By Kim Parrish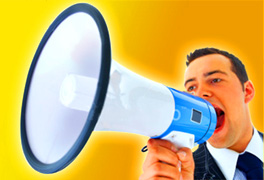 In Many people became aware of Joe Duffy's work somewhere in the mid 80's, when he and his designers were developing work for French Paper Company. Personally, I found that work to be both refreshingly new, yet often executed with an antique feel that was simply wonderful. A few weeks ago while reading one of his articles, I noticed a statement that resonated with me. Joe wrote something that I have been saying for years...
"After all my years in design," said Duffy, "I remain wary of the branding and design consultancies that sell the strategic process before the work. The work should speak for itself."
Bravo. If you look around, you might notice a common thread on some websites of advertising agencies and design firms; it seems that some of them put a rather large emphasis on their process.
Bloviation is everywhere
Some of them go on and on about this elaborate, creative journey, pattering about a convoluted method—a voluminous spiel, laced with the latest marketing buzzwords and sprinkled with plenty of references to Twitter and so forth. Unfortunately, at the end of all this, the viewer is often directed to a portfolio with hardly any real work! At some point, you can't help but be reminded of the beloved 1940's American comic and actor named W. C. Fields, who said; "if you can't dazzle them with brilliance, baffle them with bull."
Certainly there are many important aspects to agencies; you need friendly people, good service and a dedication to meeting deadlines. But at the end of the day; the work should sing above everything else.
Is the proof in your pudding?
A few weeks ago I wrote about the importance of your design firm having a solid track record of creative work. I have provided graphic design services in Orlando for many years, but to be honest, I've never been an aggressive salesman. Over the years, my sales presentations have usually been low profile and pretty brief – I just show them the work. When a potential client asks if we can write copy or direct a photo shoot, we simply show them examples of several things we have already produced. When they ask about search engine optimization, we pull up several of our websites on the laptop and show them how we are doing on Google.™ There are no dancing girls and no dog and pony show. The proof is in the pudding. This no-nonsense approach may not be good enough for marble office ad agencies, but it has helped keep us in business for fifteen years as a branding company and graphic design firm, serving clients in Altamonte Springs, Ocoee, Clermont, Leesburg, Kissimmee, Windermere, Lake Mary, Tavares, and all over the state of Florida. I can only conclude that apparently someone, somewhere agrees—the work should speak for itself.
If you are a business owner or marketer looking to develop a new image, or seeking to refresh an old identity with new branding, brochures or website design, then no doubt you have been looking at ad agencies and graphic design firms. So what do you think... does the work speak for itself?
Kim Parrish is an award-winning creative consultant, his Orlando advertising firm develops cohesive branding, campaigns, website solutions and SEO, print collateral, and package design for a wide spectrum of companies—from small start-up firms to global brands like Wal-Mart® and NBC/Universal®.
Copyright 2009-2015 Kim Parrish Creative Services, Inc. « Back to Branding Blog