Generic Sales Surge, Impact Big Brands
Why rising generic sales could mean opportunity for your product or service
By Kim Parrish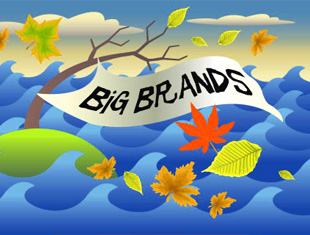 Some of the big brands are in a storm like never before. Why? For one thing, adjusted unemployment figures (including those who have given up looking and those working part-time that want full-time work) are hovering at a staggering 17 percent. Now more than ever, consumers are seeking value; and as they hunt value, the strength of some big brands is being tested like no other time in recent history. This could all add up to opportunity for small brands and startups!
The rise of generics and private labels.
Evidence of the shift became clear in 2009, when Nielsen reported a significant increase in private label sales. In fact; over 40 percent of shoppers reported buying generic labels instead of big name brands, and a whopping 63 percent said they plan to purchase private labels after the economy rebounds, according to a survey of 50,000 shoppers released by BrandSpark and Better Homes and Gardens. Many consumers are saying "see ya" to perennial brand favorites—everything from Birds Eye® to Bayer® to Raisin Bran®—at an increasing rate, and snapping up less expensive alternatives without the famous names. And don't assume retailers really care—they stand to make even more profit on the generics! That's probably why Procter & Gamble just announced the launching of its own online store this spring, that will sell P&G products like Oil of Olay®, Pampers®, and Tide®. The trend goes far beyond the grocery aisles too; big retailers Target® and Wal-Mart® unveiled new designs for their private label brands just last year, and expanded the number of products into their home and clothing aisles. Office suppliers like Staples® are devoting extensive web pages and floor space to promote their own products over big name brands. According to a recent TEC White Paper, Staples brand products represented 7% of total sales in 2000. Today, Staples proprietary branded products represent more than 23% of total Staples sales, and the company intends to see that number grow.
Still not convinced? You might be surprised that the top U.S. LCD TV brand for all of 2009 was not Sony, Samsung or Toshiba; it's a relative newcomer called Vizio. Far from being a household name, Vizio started in 2002 as a small company consisting of three people. Surfing the waves of this troubled market with good branding and price points, Vizio enjoyed an astounding 92.1 percent increase in sales for 2009, and is now commanding almost 20 percent of the U.S. LCD market!
Marketers can learn and prosper from these events.
First of all, we can all see how important branding is in these troubled times. Something creative firms have been saying for years is now crystallizing in the retail aisles and sales floors of the nation—yes, proper branding is everything! Properly branded products will survive the storm, but companies who have allowed their brands to stagnate and lose emotional territory with consumers are going to lose more market share. Established names must take steps to maintain the closest relationship possible to their existing brand advocates, or risk losing many of them in the rising tide of mystery labels and services. Branding firms and advertising shops must be empowered to develop new avenues of loyalty and fresh thinking, new messages of value and trust, to counter the assault of the generics.
Secondly, it's not hard to see solid opportunity for new brands and startups in this environment. Are you looking to launch a new product or service? This may be one of your best chances ever; because current trends and statistics show that consumers are now more willing to try something new!
Here are a few recommendations...
Seek out and hire an experienced, cost-effective branding firm, to get you started on the right track to success and help you avoid the mistakes commonly made with new branding efforts.
Work closely with that firm to develop an attention-getting image, to break through the clutter of older brands, snare converts and boost sales.
Task your ad agency or creative team to develop powerful package designs, point of purchase displays and/or sales materials to surround your product or service.
Invest in a serious online presence; starting with a professional website—regularly refreshed with relevant content to educate and inform—then add a social media strategy and mobile marketing campaign, to engage your existing and prospective buyers.
Reach your market with a targeted advertising program, to proudly proclaim your alternative message of value and quality. Note; you don't need a big ad agency to get quality creative work, do some research and compare portfolios.
Those of you with new products and services that offer good value; listen up! Coupled with an attention-getting image, fresh marketing and a timely message, your brand could be poised to gain serious market share—even against the big boys.
Kim Parrish is an award-winning creative consultant, his Orlando advertising firm develops cohesive branding, campaigns, website solutions and SEO, print collateral, and package design for a wide spectrum of companies—from small start-up firms to global brands like Wal-Mart® and NBC/Universal®.
Copyright 2009-2015 Kim Parrish Creative Services, Inc. « Back to Branding Blog