Social Media; The Good, The Bad
And The Waste Of Time
New survey indicates many executives like it, but still have doubts
By Kim Parrish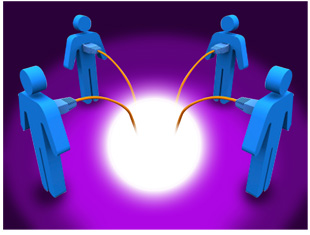 It's interesting to see the impact of social networking sites on our society. While many companies are still scrambling to set up a presence on social sites like Twitter, some employers and government agencies are blocking access completely. While advertisers are dreaming up new ways of building their brands on Facebook, some are suggesting it may be a waste of time and a killer of personal productivity. Others are using SM as a direct channel for sales, as well as feedback and input from their customer base—basically an extension of customer service and market research—an unsanitized and raw sounding board for their brand. It's hard to argue when companies like Dell start crowing about making millions on Twitter. Have you thought about where your product, brand or service fits into this brave new world?
A recent survey suggests that American executives have come to value social media very highly for enhancing relationships with customers and building their company's brand. In fact, more than eight in 10 management, marketing and HR executives responding to the July 2009 survey cited brand-building as a benefit of social media. But that same survey also suggests that many executives still admit fears about the issues raised by social media. More than one-half of those who did not use SM said they did not know enough about it, and four in 10 worried about confidentiality and security problems. Another 37% had concerns about employee productivity.
One thing's for sure; many of today's consumers want to interact with others about brands; they want to be heard loud and clear and they want it now! Sometimes its just to bash a brand; with outbursts and rants of dissatisfaction in a bawdy rash of insulting tweets. Others want to sing the praises of the products they love, and they are not afraid to boldly become brand advocates; posting their opinions on internet forums that are populated with thousands of people just like themselves. While some companies are still lurking in the shadows, others have stepped up and embraced this technology; hiring their own social media directors and viral marketers, starting corporate pages on social media sites, integrating their websites with a variety of SM sites—or starting official support threads on the user group forums where their customers are spending so much time.
At Kim Parrish Creative Services, we can assist companies in developing creative approaches to social media; from trackable mobile campaigns and brand-building dialogue to viral marketing and videos. Although still young, social media is already becoming another form of basic communication between brands and their customers—but this time it's happening on the customer's turf. Consumers have already started this party; now it's up to businesses to meet these users on their terms—and when they do, they'll have to take the good and the bad together.
Kim Parrish is an award-winning creative consultant, his Orlando advertising firm develops cohesive branding, campaigns, website solutions and SEO, print collateral, and package design for a wide spectrum of companies—from small start-up firms to global brands like Wal-Mart® and NBC/Universal®.
Copyright 2009-2015 Kim Parrish Creative Services, Inc. « Back to Branding Blog